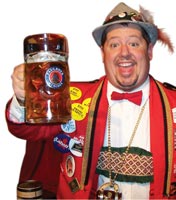 'WE GOTTA BINGO' an interactive happening that encourages the audience to "let loose."

Don't go to see Bingo, now on stage at the 14th Street Theatre in Playhouse Square, expecting to see a great theatre epic. What you'll participating in is a free-wheeling, interactive, mostly adlibbed experience, filled with playing Bingo, polka music (what else?), dancing, being dragged up on stage to participate in shenanigans, and winning prizes such as a fake stuffed turkey or a used sweater or sitting on a throne if you are lucky enough to actually achieve a bingo.
The "plot," and I'm using the word in the broadest sense, centers on the decision to combine an Italian Catholic parish with an Irish one (let the bickering and insults begin). By mistake, the wrong church is destroyed by the wrecking company, so a fund-raiser has to be held to get the money to redo the building. Far fetched? Of course, that's what leads to the ridiculousness of the double sexual inuendos, the entrance of the archbishop (who was sitting next to you just two minutes ago in normal clothing), and the mad racing around by the cast. It's also what caused one of my tablemates to fake a leg injury so he didn't have to do the Chicken Dance.
Performed in the vein of the long running 'TONY N' TINA'S WEDDING,' 'WE GOTTA BINGO,' which is being performed both here and in St. Paul, places you in a German beer garden. The "meal" consists of Bruschetta San Dominica,
Insalata del Lotto, homemade lasagna, warmed garlic bread and an
assortment of Wunderbars. Now, don't get the idea this is gourmet food. It's served on paper plates, you eat with plastic forks, and the bread comes wrapped in aluminum foil. Think, Ladies Auxiliary food served in a church basement!
Many names familiar to local audiences are in the cast including Eileen Burns (who sings up a storm), Liz Conway, Paul Floriano (as his usual ill-tempered curmudgeon), Patrick Carroll, Lissy Gulick (the lady can actually play the bass), June Lang (who portrayed Mrs. Vitale in 'TONY & TINA'S WEDDING) and Dan Marshall (who looked fetching at the conclusion in a fishnet off-the-shoulder outfit). And, Paul Hupalowsky, from where else than Parma, playing the accordion. The affair is guided by Resident Director Jacqi Loewy and Director Ross Young.
Capsule judgment: The cast seems to be having a good time. The audience, depending on an individual's possessing the ability to let loose and just let things happen, including being a willing or unwilling participant in the shenanigans, leaves smiling. (This would make a great holiday party occasion. Groups of 16 or more get priority seating and special ticket prices.)