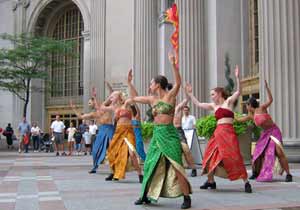 Verb Ballets continues to impress
While attending the two-day Verb Ballets programs at Playhouse Square's Ohio Theatre, a reliable source revealed that Ohio Ballet, which had already canceled its winter season, had canceled its spring Cleveland appearance. The source indicated that plans were to possibly do an Akron spring offering. This news does not bode well for the company. It is ironic since Verb Ballets was doing a weekend tribute to Heinz Poll, founder of the Ohio Ballet. It was Poll who made the company a national force, combining traditional and modern ballet.
In the last several years it has become apparent that Verb Ballets is on its way to filling the void caused by the demise of Cleveland-San Jose Ballet and the problems of Ohio Ballet, its potential replacement as the major large company in the area. Verb's concerts are well attended. Last year's Playhouse Square offering was sold-out. Their recent two-night stand, in spite of stiff competition from the Cleveland Film Festival, 'BOMBAY DREAMS' in the next door Palace Theatre, and Groundworks performing at Cleveland Public Theatre, drew nice sized audiences.
Artistic Director Hernando Cortez has developed a well-disciplined company. He has supplemented his personal creative choreography with works of Poll and Paul Taylor. He has brought in resources such as Jonathan Sheffer, artistic director of RED, to compose music specifically for the company. Trad Burns continues to impress with his lighting designs. The company appears to be on good financial grounds. They have developed a devoted and enthusiastic following.
Both evenings' programs were well-danced. They were aesthetically pleasing, well conceived and nicely selected to make for two different and stimulating evenings.
On Friday, Eric Conway soared in 'ESPLANDE ,' as did 70 year-old Ann Ennis reprising a role she has made her own. Kallie Marie Bokal/ Glynn Owens and Oren Porterfield/Mark Tomasic coupled impressively in 'SIX -EASY PIECES.' Based on Poll's personal pronouncement that "movement has to have a reason," his "WINGS AND AIRES' was a melodic, flowing, exciting classical ballet which combined well with modern dance. His signature style of straight backs, free-flowing motion, meaningful arm movements and erect posture were all well-recreated by the dancers under the restaging concept of Jane Startzman.
Saturday night opened with the exciting and fun-filled 'FOREVER FLING,' an Irish hoedown. Fourteen year-old wunderkindt, Austin Thomas, stole the hearts of the audience. A lanky six-footer, Thomas moved quickly with confidence and competence and accomplished amazing vertical leg kicks that brought squeals of delight from the audience. Also impressive in the number were Mark Tomasic and Robert Wesner. Wesner made a major breakthrough in his performance skills. Abandoning his usual overly-dramatic, stilted hand sweeps and classical stiff body running off stage at the end of his solos, his face gleamed with real emotional reactions. His body interpreted and lived the music. I don't know if it was the Poll influence, Cortez's directions or Wesner realizing that reality is more important than window-dressing, but the adjustment worked and worked well!
The high point of the evening was 'CHICHESTER PSALMS,' choreographed by Cortez to music by Leonard Bernstein. The well-conceived, beautifully structured piece wowed the audience. Brooke Wesner, who coupled with her husband, Robert, was outstanding. Trad Burns' lighting perfectly paralleled the musical sounds in its ever changing intensity and flow. The marriage of dance, music and lighting was impressive.
The evening ended with Poll's 'ELEGIAC SONG.' Based on Poll's personal memories of wartime Germany, the choreography impressively mirrored the grieving woman drawings of artist Kathe Kollwitz. The visual images precisely paralleled the haunting music by Shostakovich.
In a well-planned tribute, Elizabeth Flynn, a long-time Cortez friend,who is leaving the company, danced the lead roll in "ELEGIAC SONG.' Her final bow was met with hundreds of roses being thrown on stage by her devoted followers and a tearful goodbye speech by Cortez.
Verb Ballets will be conducting HOOPLA, a unique fund raiser consisting of 15 small get-togethers ranging from a live piano concert in a South Park home to the premiere of 'CLEVELAND BARES,' a Broadway burlesque featuring Cleveland's hottest dancers. The company's next public appearance will be on September 15 and 16 at the Cleveland Museum of Natural History. For information on HOOPLA or the fall concert call 216 231-1177.
CAPSULE JUDGEMENT: As their slogan states, 'Verbs the word," and again the company proved the truth of that statement. Bravo!