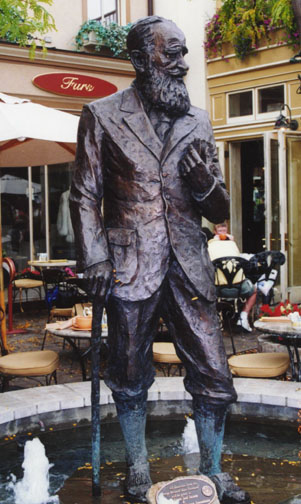 SHAW and SHAKESPEARE FESTIVALS beacon
John Simon, the legendary drama reviewer of New York Magazine, stated in his 2004 Shaw Festival review that is was "The best repertory theater on the entire continent." Based on their most recent offerings, I'd have to agree. Not far behind would be the Stratford Festival of Canada.
It may seem like spring and summer are a long way off, but Shaw and Shakespeare, the two Canadian theatrical venues, have announced their season offerings. It might be a good time for you to think "go north" for a spring, summer or fall vacation that includes attending one or both of these theatres as ticket sales are generally brisk and many of these theatres' shows sell out before the season opens. This is especially true on weekends.
THE SHAW FESTIVAL
The Shaw Festival is conducted in three theatres in Niagara-on-the-Lake, Ontario, Canada, an easy four-hour trip from Cleveland. You travel through the wine countries of Ohio, New York and Canada enroute. Once you arrive, you will be entranced by the lovely city. It is called the most beautiful city in Canada, and it is! Lovely flowers, classical home architecture and inviting well-stocked shops make for an inviting experience.
Jackie Maxwell, Shaw's creative Artistic Director, has described the 2005 season as, "Stories galore that will provoke, intoxicate, move and delight." The offerings, which run from April 1 through November 27 include: 'YOU NEVER CAN TELL,' 'THE CONSTANT WIFE,' 'GYPSY,' 'JOURNEY'S END,' 'HAPPY END,' 'MAJOR BARBARA,' 'SOMETHING ON THE SIDE,' 'THE AUTUMN GARDEN,' 'BUS STOP,' AND BELLE MORAL.'
Besides the plays themselves, the Festival includes a reading series, Sunday coffee concerts, a Village Fair and Fete, seminars, backstage tours, pre-show chats, Tuesday Questions and Answers and Saturday Conversations.
The area itself is filled with activities ranging from a golf course within the city limits; an art park (www.artpark.net); The Good Earth Cooking School (www.goodearthcooking.com); the Jordan Village, a diverse blending of fine shopping, dining and antique treasures (www.jordanvillage.com); an international chamber music festival (www.niagramusicfest.com); learning vacations at Niagara College (www.niagaralearning vacations.com); bike paths; and you can zoom into the whirlpool of the Niagara river on a jet boat.
The Niagara area is dotted with wineries, many of which, besides offering wine tastings and sales, have fine dining restaurants. The best of these, at least on our last visit, was Hillebrand Estates Winery.
There are some wonderful restaurants including my favorites, The Inn on the Twenty (www.innonthetwenty.com), located in historic Jordan Village about forty minutes from Niagara-on-the-Lake and the Queenston Heights Restaurant (www.queenstonheights.com). The latter is located in a park just over the US-Canadian border, the facility has a breathtaking view of the Niagara River gorge.
Greaves Jams and Marmalades is famous for its products since 1927. A Niagara tradition is the Maple Leaf Fudge store. Also, don't miss out on the several stores that sell yogurt which is blended before your eyes with Niagara fresh fruits.
The area has many excellent hotels and bed-and-breakfasts. We have found Abbotsford House Bed and Breakfast (www.abbotsfordbandb.com) to be our home away-from-home. Owner Margaret Currie is a total delight. Her breakfasts are scrumptious, she keeps an immaculate home, and the antiques and decorations are impeccable. Return guests are the rule here. For reservations and/or information call 905-468-4646 or e-mail AbbotsfordBandB.com.
For theatre information, a brochure, lodging suggestions or tickets call 800-511-7429 or go on-line to www.shawfest.com. Ask about packages that include lodging, meals and tickets. Also be aware that the festival offers Sunday night specials, day-of-the-show rush tickets and senior matinee prices.
Tired of waiting for a casino in Cleveland? For those so-inclined, Niagara Falls has a brand-new gambling casino. An added attraction is the new Niagara Fallsview Casino Resort which features 3,000 slot machines, 150 gaming tables and overlooks the thunderous cascading water. There is also a large outlet store complex for the bargain shopper. And, of course, not to be overlooked are the attractions connected to the magnificent falls.
THE STRATFORD FESTIVAL OF CANADA
The Stratford Festival of Canada takes place in Stratford, Ontario, Canada. The ride from Cleveland is about six hours through Buffalo. Go on-line to the festival to get directions. (The routings offered by both the AAA and Yahoo maps are confusing and miles longer.)
Stratford productions, which are done in four theatres, run from April 19 through November 5. Shows include: 'THE TEMPEST,' 'HELLO DOLLY,' 'AS YOU LIKE IT,' 'THE LARK,' 'CAT ON A HOT TIN ROOF,' 'FALLEN ANGELS,' 'INTO THE WOODS,' 'THE BROTHERS KARAMAZOV,' 'WINGFIELD'S INFERNO,' 'ORPHEUS DESCENDING,' 'MEASURE FOR MEASURE,' 'THE DONNELLYS: STICKS AND STONES,' 'THE MEASURE OF LOVE,' 'RUTH DRAPER ON TOUR,' and 'EDWARD II.'
Besides the regularly scheduled plays the Festival offers public readings, Monday night music, a Celebrated Writers Series, buffet lunch and dinner table talks, special lectures, stageside chats, backstage and costume warehouse tours, and garden tours. Special offerings include "The Making of a Musical," "Canada Play Day," and "Saints and Sinners: Religion and Morality." A series of events and activities for the entire family including song and dance workshops, dress rehearsals with the actors and a "Fall Fairy Tales" storytelling day are also on the docket.
What's the lodging like? Hotels, motels and bed and breakfasts abound to fit any wallet. I enjoy the B&Bs where you get to meet local people who operate the facilities and fellow travelers from around the world. My favorite is "The Jennie Forbes Cottage" a charming regency cottage erected in 1857 (www.jennieforbescottagebb.com). Owners Don and Kathy Spiers are wonderful hosts.
As for shopping, I recommend Davis Canadian Arts (106 Ontario Street). This is a wonderful art gallery that offers Canadian traditional and contemporary sculptures, ceramics and paintings. For women's quality clothing make sure to stop at The Touchmark Shop (137 Ontario Street). The establishment offers unique and one-of-a kind products at excellent prices.
Hungry? For moderate cost and high quality, try The Annex Room (38 Albert Street). For a relaxed and fairly inexpensive breakfast treat try Demetre's Family Eatery (1100 Ontario Street). Cleveland theatrical legends Dorothy and Reuben Silver recommend The Waterlot Restaurant and Inn (17 Huron Street behind the Royal Bank) in New Hamburg, which is about 20 minutes away "and well worth the trip."(www.waterlot.com) Also on their favorites list is The Keystone Alley Cafe (34 Brunswick Street) in Stratford (www.keystonealley.com) which has an outdoor patio.
Stratford Escapes, a division of Niagara Falls Tours, is an efficient way to make reservations. For information call 877-356-6385 or go on line to www.niagarafallstours.com. For individual tickets call 800-567-1600 or go on-line to www.stratfordfestival.ca.
Been to the festivals in the past? Then you know the joy of being in a country of warm and hospitable people and the quality of the offerings. If you haven't ventured before, you might want to consider these cultural and recreational areas.
Helpful hint: To make your border passing easier carry some official form of identification (passport, or driver's license with a picture).