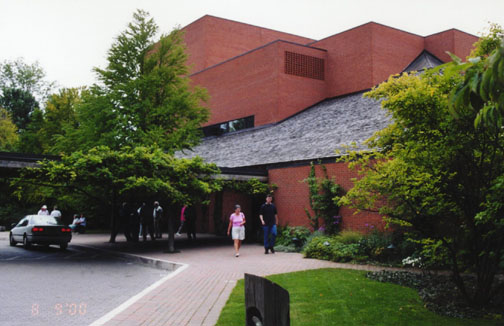 S
haw Festival, a place to go for entertainment and beauty
Nestled in lower Canada's beautiful wine-country, just over the border from Buffalo rests Niagara-on-the-Lake, Ontario. It is noted as the most beautiful little city in Canada. The reputation is deserved. In spring and summer the village blooms with wonderful flowers, green golf courses, and vineyards. It is the home of fine bed and breakfasts, spas, and an excellent array of restaurants.
For many US Americans, besides the beauty, the big draw is the annual Shaw Festival. Housed in three unique theatres, the festival is dedicated to producing musicals, dramas and comedies that were written during the life span of George Bernard Shaw or about that era. The mainstay productions are Shaw pieces themselves. This is high quality, professional theatre at its finest. The Festival has been successfully headed by Artistic Director Christopher Newton who is retiring this year after 22 years at its helm.
The present season includes two wonderful productions ,CANDIDA and CAESAR AND CLEOPATRA, both written by Shaw. There are also a couple of strong shows, MERRILY WE ROLL ALONG, a musical by Steven Sondheim, and Ronald Ackland's THE OLD LADIES which is based on a novel by Hugh Walpole. Also on the board are two less successful productions, Sidney Kingsley's DETECTIVE STORY and Harly Granville Barker's HIS MAJESTY. Shows which are running, which I didn't get to review are THE RETURN OF THE PRODIGAL, THE HOUSE OF BERNARDA ALBA, and THE OLD LADY SHOWS HER MEDALS. Later in the season Noel Coward's HAY FEVER and Simon Bradbury's CHAPLIN will be added. Productions run to late November.
CANDIDA is a delight which centers on a menage a trois between a vicar, his beguiling wife, and a youthful poet. The show has a perfectly balanced cast and is well directed. It is Shaw at his finest...illustrating the power of women, poking fun at the frailties of men, mocking the church, making political lectures, and dispensing with God. And, of course, adding memorable lines to the English vocabulary such as "Nothing worth saying is proper." "Poets talk to themselves out loud and the world hears them." and "The quantity of truth the average man can bear is still very small." As Jackie Maxwell says in her director's notes, "CANDIDA shows us that nothing is still as timeless, resonant and fascinating as the mysterious workings of the human heart." This is a wonderful production!
Written in 1898, CAESAR AND CLEOPATRA is as relevant today as it was then. It is part lesson in how states should be governed, part comic critique of the occupation of one country by another, part love story and part murder mystery. The play asks, How do you live a good life? Can we accomplish the impossible? Can there be such a thing as ethical government? One of Shaw's great plays it is crammed with authentic historical details and then embellished with the writer's own philosophy of life and politics. As director Christopher Newton states, "Like the Sphinx itself, this is a play of smiling riddles and mysterious omens." CAESAR AND CLEOPATRA is a wonderful theatrical experience. Everything is well honed. The sets are awesome, the acting compelling, the pacing perfect, the humor well-keyed.
How does US America's most proficient writer, Steven Sondheim, wind up on a Shaw Festival stage? MERRILY WE ROLL ALONG fits the Festival's mission as it is based on a 1930's Kaufman and Hart comedy.
The musical has an interesting gimmick. It is written in reverse order. We know how the characters end up right at the start. What we find out is how they got there. Memorable music includes "Old Friends," "Not a Day Goes By," "Opening Doors," and, of course, the title tune. The festival chooses its cast for their acting abilities as they all appear in several shows. Unfortunately, this leads to some inconsistency in their musicals as singing and dancing are not the company's primary strengths. That's not to say the production is bad. It isn't. In fact, it is quite good. Just don't go expecting to hear Broadway caliber singers. The audience was delighted at the show and that, in reality, is all that is important.
THE OLD LADIES makes for intriguing theatre. The play is brooding and spooky. Set in an old house with three apartments for let, we find ourselves entwined in the lives of three very different old, unmarried women. The story concerns displacement, poverty, fear, social reality, disappointment, and relationships between individuals. The weakness, if there is one, is the ending. It was interesting to hear the audience offering alternative conclusions as they exited.
The performances are outstanding. Each character is perfectly developed. We are made to feel like voyeurs peeking in on the solitary lives of these three elderly women, sharing their few joys and many sorrows. This is a thought provoking theatrical experience.
Both DETECTIVE STORY and HIS MAJESTY, though very different venues, suffer the same problem. They both are ploddingly directed by Neil Munro. DETECTIVE STORY is a US American mystery. As often happens with Canadians attempting to do US plays, they lack the right cadence and attitude. DETECTIVE STORY requires New York accents, rapid pacing and intensity. An interesting play that weaves multiple characters into a story, much like present-day TV programs such as THE PRACTICE, Kingsley forces characters to reveal themselves to each other, and therefore, to the audience. Basically, it is a story about the fall of a policeman who becomes one of the criminals he despises.
With a better production HIS MAJESTY could have been captivating. It is a political thriller which examines the role of a deposed monarch and his role in dealing with a brutal political struggle for his country. As the king proclaims, "I won't win back my kingdom by bloodshed," but the forces around him plot otherwise. HIS MAJESTY is filled with the stuff good scripts are made of--ultimatums, political intrigue and the games of war men play. It's a shame that the production lacks dynamism. As is, it's a talkathon.
The Shaw Festival is about a 3 1/2-4 hour easy drive from Cleveland. See a show or two, visit nearby Niagara Falls, see the Welland Canal, ride in a horse drawn carriage, take a bike ride along the river, visit a winery, go antiquing, experience a jet boat ride, and take advantage of the great exchange rate which makes the entire experience a bargain. Stay at a bed and breakfast. Suggested: TAIGH-NA-MRRA on Mississauga Street. Margaret Currie, the owner, offers old-fashioned Scottish hospitality, her breakfasts are wonderful, and the house is immaculate. (Call 905-468-4646). Favorite places for dinner are The Inn on the Twenty Restaurant (a Zagat Guide favorite) and Queenston Heights Restaurant, which has wonderful food and an awesome view of the river and valley.